Penang is definitely a trip full of foods.
So of course, the must buy souvenirs to get are food too!
Food is always a good option if you have no idea what to buy in Penang!
Introducing some other good local products other than the commonly known biscuits this time!
The taste of penang : Tuck Kee Bakkwa – 40 years of making bakkwa in Penang
Bakkwa aka dried meat is a must-have snacks in most of the Chinese homes when it comes to the lunar new year, mostly they sell it only during the festive season, but Tuck Kee sell it all year round, they make a living out of it!
Bakkwa is actually used to made to preserve the meat, it is thin square slices of minced pork that have been grilled over a charcoal fire to a juicy smokey goodness.
Tuck Kee's dried meat is prepared using traditional methods, charcoal grill daily to provide the freshest bakkwa to customers.
The sweet and savory, chewy delicacy is easily found especially during Chinese New Year when Bakkwa are usually bought to be given as gifts to friends and family.
Other than the festive season, people buy Tuck Kee's Bakkwa as a souvenir to friends and family!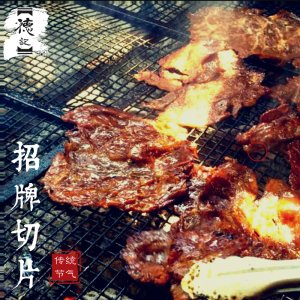 The marinated minced meat is flattened into thin squares and dried before being grilled over charcoal fire for a smokey finish. Resulting in a soft, chewy jerky that is sweet, savoury and juicy. Tuck Kee's Bakkwa is something slightly different taste compared to those sweet-bakkwa, try out then you will know! Bakkwa is either eaten as is or eaten with bread.. like a sandwich! Or you can do fried rice with it!
Other than the thin slices of bakwa, Tuck Kee also sell variations of it such as the "gold coin" which are bite-sized squares with a blob of fatty pork on top which contain chinese rose wine, a very special traditional taste of penang indeed! Other than this, small thick oblong shaped ones for those who prefer meatier bites which is called pork gold stick!
Bahu (pork floss), is also Tuck Kee signature products that local loves to spare some at home! Bahu can be used as fillings for buns or as toppings for various dishes. It can also be eaten with porridge.
The bahu is made from braised shredded pork that is fried till it's a dry and fluffy consistency, like clouds of sweet meaty floss.
There are also variations now in the meat used for both bahu and bakkwa such as chicken for those who prefer something healthier, Tuck Kee do have new product which is Beef Jerky too!
Tuck Kee has been around for almost 40 years and is known for their bakkwa and bahu. We also have lap cheong(Chinese sausages), salted dried duck drumsticks and several other preserved products popular during Chinese New Year as they are used to prepare lap mei fan(rice cooked with dried preserved meat). Tuck Kee is open all year round so all their dried and preserved meats are available throughout the year.